Mt. Kilimanjaro Climb
17th – 23rd August 2013
Trek Report
by Keshav Gupta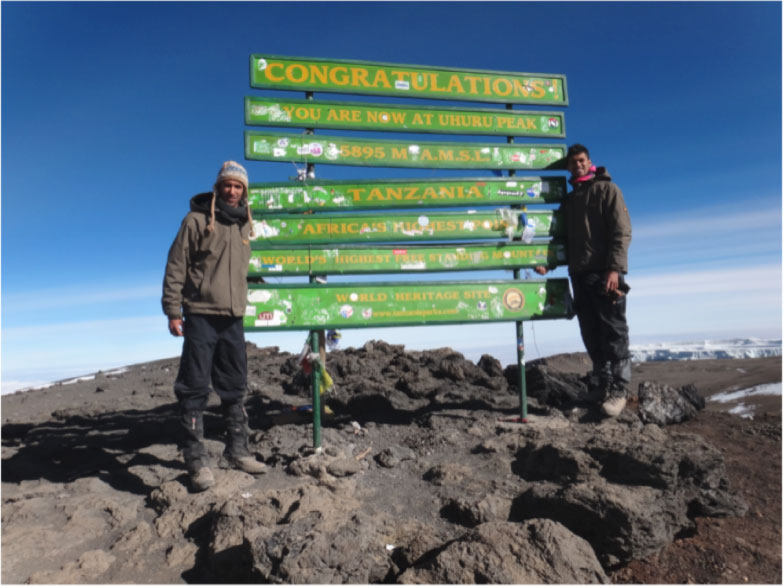 In August 2013, 12 of us embarked on one of Africa's most demanding challenges – to climb Mount Kilimanjaro. Kilimanjaro is the world's highest free-standing mountain, and boasts Africa's highest point at 5,895m. The twelve in the group were climbing to raise money for Sewa UK, a non-profit charity who raises money to help rebuild communities struck by natural disasters (www.sewauk.org).
We ascended up the Marangu Route taking six days in total. Each day required walking for about 5-7 hours. Starting at 1,970m, we increased our altitude by approximately 1,000m per day. It was therefore important to stick to the slow 'pole pole' pace enforced by our guides. This helped maximize our chances of summiting since a slow ascent reduces your chances of succumbing to altitude sickness. Most found the first two days enjoyable. Despite walking slowly, the speed at which the scenery changes is remarkable. I think we all found the huge biodiversity to be breathtaking.
Once the sun sets, the mountain becomes a very different place. Even at the relatively low altitudes, we found the temperatures to be surprisingly cold. Darkness surrounds you as quickly as you are hit by the change in climate and it was important to rest early to ensure you could wake up at the crack of dawn to begin the next day.
After the second night in Horombo at 3,700m, we moved above the clouds. It was scary to think just how high we were at this point. We could feel the oxygen levels reducing as we struggled for breath and more and more of the group were complaining of symptoms of altitude sickness. After arriving at Kibo hut at 3pm we took a well deserved rest but were quickly refocused by our chief guide who told us that this was where the test really began. We had only 3 hours sleep that night before waking up at 10pm to start walking in the middle of the night. This was standard procedure on the last night because apparently if you could see what you were walking up, then you would quit before you even started…
This day was by far the toughest. The temperature of -20 degrees, the gale force winds, and the fact that oxygen levels were at 50% almost justified the fact that we were walking slower than a 90-year-old arthritic grandma. 8 hours in these conditions left us wondering why we signed up. When we got to the top, it was more of a relief than anything. The sun started to rise and as we looked down on the route we had conquered, it was inspiring. To think we had come this far, to the highest point in the whole of Africa, was an overwhelming thought. It was by no means easy but nothing worth doing ever is. The stories, the memories and the experience are something that will stay with us forever.
Team members: Janesh Gupta, Raj Nayar, Bipin Patel, Hridesh Gupta, Ravi Showan, Keshav Gupta, Pranav Gupta, Vinay Gupta, Rohit Gupta, Pavan Bhambra, Vanita Jain and Poonam Jain.
——————–
Trek Details
First day to acclimatise, visit local charities and community
Kilimanjaro trek from 18th – 23rd
Optional safari to NGORONGORO AND LAKE MANYARA AND SERENGETI after the trek
Prof. Janesh Gupta will be leading the trek.
Fund raising
Participants must raise a minimum of £1,000
All funds will go to Tanzanian local charities
Our chosen charity is:
SEWA UK
Travel
You can fly from all major UK airports to Kilimanjaro airport near Arusha
Quote from our local tour operator (Website: www.kilimanjaro-shah.com)
"After reviewing your details, it sounds like a great cause that you will raise funds for from your climb. As long as all members of your group are climbing for the charity cause, I am willing to offer the below itinerary. We will also offer 2 complimentary nights at Mountain Inn for all persons on your climb."
Kilimanjaro Climb Via Marangu Route
DAY 1 Direct arrival to Mountain Inn in time for an early evening pre-climb briefing on the trek, dinner and overnight stay.
TREK BEGINS
DAY 2 Drive to Kilimanjaro National Park Gate at Marangu for the first section of the climb through the montane forest to Mandara Hut at 9000ft/ 2750m. taking 3 to 4 hours. Overnight Mandara hut

DAY 3 Leaving the forest, you trek along a good path through open grassy moorland to reach Horombo Hut at 12000ft/3700m. taking 5 to 7 hours. Overnight Horombo hut

DAY 4: Horombo hut (3700m) – Acclimatisation day. This extra day and night at Horombo is for additional acclimatisation. A hike towards the Mawenzi hut, passing the Zebra Rocks on the way (about 3 hours up and 1.5 hours down), is strongly recommended. This hike will further assist with the process of acclimatisation. Remember to drink enough water and move slowly! All meals for the day are provided at the hut. Retire to bed early and get a last good night's rest.
DAY 5 Continue ascending past 'the last water point' traversing the saddle between Kibo and Mawenzi to Kibo Hut at 15000ft/4700m. taking 5 to 7 hours. Overnight Kibo hut Summit Day

DAY 6 An early start for the summit on steep and heavy scree up to Gilman's Point at 18640ft / 5681m. on the crater rim to arrive in time for sunrise. Continue on to Uhuru Peak the highest point in Africa at 19340ft / 5896m. Descend to Horombo Hut for overnight taking 7 to 8 hours ascent and 4 to 7 hours descent. Overnight Horombo hut

DAY 7 Descend the mountain to the Park Gate taking 5 to 7 hours to be met and transferred to Mountain Inn for dinner and overnight stay.
DAY 8 Breakfast at Mountain Inn – End of tour
Price per person sharing: £750 approx.
Price includes:
– 2 Nights complimentary accommodation at Mountain Inn on half board basis
– KINAPA Park entrance / conservation fees/ Rescue fees/ Hut fees
– English-speaking Guides
– Porters and porter-cook
– All meals on the mountain on full board basis
– 1 transfer per group to and from park gates
Price excludes:
– Tips / gratuities
– Mountain equipment
– Beverages
– Any items of a personal nature such as laundry, insurance, visas etc.
Further details will be posted to this page in due course. Please check back regularly.
Photos
Downloads